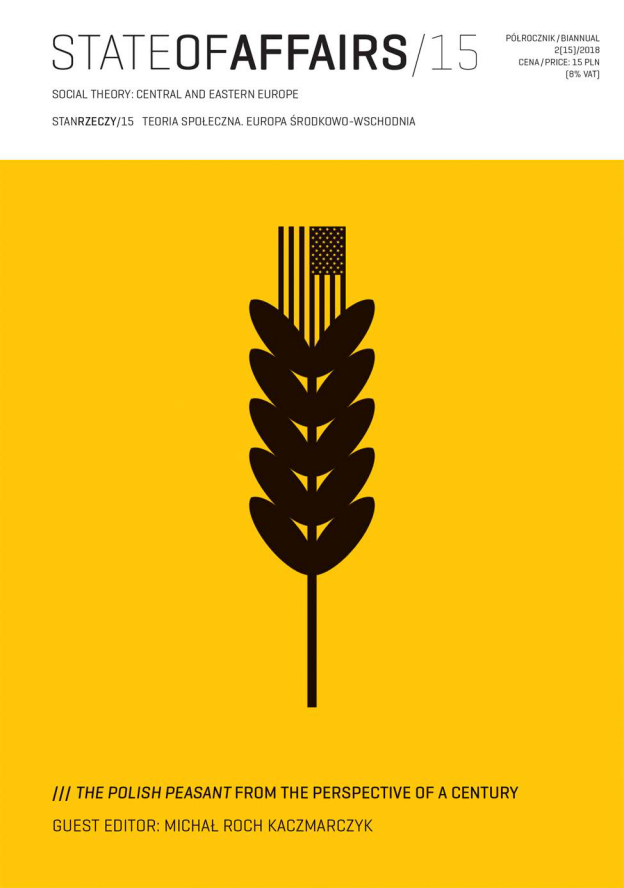 Michał Roch Kaczmarczyk (red.)
Stan Rzeczy 15 – "The Polish Peasant" from the Perspective of a Century / "Chłop polski" z perspektywy stulecia
Warszawa 2018
sugerowana cena detaliczna: 15 zł
ISBN: ISSN 2083-3059 | stron: 225 | oprawa: miękka
There are not many works to which sociologists owe as much as to The Polish Peasant in Europe and America by William I. Thomas and Florian Znaniecki. Although a hundred years have passed since the publication of the first two volumes of this extensive book, it remains not only one of the most influential classics of sociology but also a mysterious work, in part forgotten and underutilised. / Niewiele jest dzieł, którym socjolodzy tyle zawdzięczają, co Chłopu polskiemu w Europie i Ameryce Williama I. Thomasa i Floriana Znanieckiego. Choć od publikacji pierwszych dwóch tomów tej obszernej pracy minęło już sto lat, pozostaje ona nie tylko kanoniczną pozycją z dziedziny nauk społecznych, lecz także książką tajemniczą, po części zapomnianą i niewykorzystaną.
Today there can be no doubt that the analyses contained in the book were constitutive for such subdisciplines as the sociology of migration, deviance, and social change. The work also played a fundamental role in establishing the methodology of qualitative research, including the biographical method, and in particular, the analysis of letters, official documents, and press clippings. The appearance of The Polish Peasant changed how applied sociological concepts were defined and to a large measure determined the critical nature of the contemporary social sciences. A comprehensive study of The Polish Peasant, as well as of Thomas's and Znaniecki's other works, still needs to be written. The present volume does not claim to outline such a project but hopes to call attention to several questions that have either been overlooked or did not play a central role in previous interpretations of The Polish Peasant.
CONTENTS


/7 Michał R. Kaczmarczyk – Introduction
/11 IN MEMORIAM: ARKADIUSZ PEISERT
/13 In Memory of Arkadiusz Peisert
/15 ARTICLES
/17 Florian Znaniecki – Elements of Practical Reality (transl. Michelle Granas)
/41 Łukasz Marcin Dominiak – The Transatlantic Migration of Ideas: Florian Znaniecki in America in the Years 1914–1919
/57 Michał R. Kaczmarczyk – The Concept of Values in Florian Znaniecki's Early Work
/75 Łukasz Remisiewicz – The Change in William I. Thomas's View of Biology
/95 Bogna Dowgiałło – When a Peasant Can Only Grieve or Rejoice: Thomas and Znaniecki's Approach to Emotions
/111 Sylwia Urbańska – Gender, Families, Social Change, and the Rural–Urban Discourse: The Polish Peasant in Europe and America as a Study of Fears and Fantasies Related to Modernisation
/141 REVIEWS
/143 Marta Bucholc – Ubi Caritas…: Mirosława Grabowska, Bóg a sprawa polska. Poza granicami teorii sekularyzacji
/153 Mirosława Grabowska – What Kind of – Terrible – Country is This? What Kind of People…? In Response to Marta Bucholc
/167 Antoni Głowacki – Religious Authority for a New, Mediatised World: Marta Kołodziejska, Online Catholic Communities: Community, Authority, and Religious Individualisation
/175 Justyna Weber – Work, Gender, and the Laity: Norms and Their Reproduction in the Church: Katarzyna Leszczyńska, Płeć w instytucje uwikłana. Reprodukowanie wzorców kobiecości i męskości przez świeckie kobiety i świeckich mężczyzn w organizacjach administracyjno-ewangelizacyjnych Kościoła rzymskokatolickiego w Polsce
/191 Dominika Michalak – Rights in Crisis: Krzysztof Jaskułowski, The Everyday Politics of Migration Crisis in Poland: Between Nationalism, Fear and Empathy
/201 Aleksandra Bilewicz – For the Art of Distance: Tomasz Rakowski, Przepływy, współdziałania, kręgi możliwego. Antropologia powodzenia
/209 Agata Łukomska – The Reasons of the Heart: Karolina Wigura, Wynalazek nowoczesnego serca. Filozoficzne źródła współczesnego myślenia o emocjach
/217 HOW TO PUBLISH IN STAN RZECZY
/221 FORTHCOMING
Zamów tę pozycję!
Warunki zamówienia:
cena jednostkowa - podana powyżej;
wysyłka pocztą w ciągu 9 dni;
na podany e-mail zostaje wysłana f-ra VAT.
Aby dokonać zamówienia, wystarczy wypełnić i wysłać następujący formularz (należy wypełnić wszystkie pola oznaczone czerwoną gwiazdką):